Beautiful user interface
A fast and modern user interface your users will love. Based on Google Material Design trend.

Reduce data entry
No need to create invoices manually, print and send them, register bank statements, follow-up payments... Automate more, save time.

Pay Multiple Invoices
Ability to reconcile a payment with several invoices using a button on the payment form.

Easy setup
Simplified initial setup with a configuration progress bar (example: set your initial balances from one screen).

Mobile
Get an instant access to all accounting features, wherever you are, on tablets or smart phones.

Bank Interfaces
Get your bank statements automatically synced with your bank. Save time with Automated reconciliation.

Accounts Receivable
Clean customer invoices
Odoo invoices are easy to create, beautiful and full featured. (payment terms, multiple taxes, discounts, pricelists, ...)
Advanced Payment terms
Support for multiple payments for one invoice, cash discounts, advance invoice, partial reconciliations.

Draft invoice propositions
Draft invoices are created automatically by Odoo based on sales order, timesheets or delivery orders.

Accounts Payables
Control supplier bills
Simply register on the forum to post questions and answer existing ones.

Employee expenses
From the main container, you can change the background to highlight features.
Forecast expensess
Get a clear forecast of your future bills to pay..

Analytic Accounting
Hierarchies of cost accounts
Structure automatically your analytic accounts based on projects, contracts, departments, etc


Fully integrated
Get analytic entries automatically produced based on timesheets, supplier bills, work orders, etc.


Multiple-plans
Manage multiple analytic plans with default values and assignations ratios between cost accounts or projects.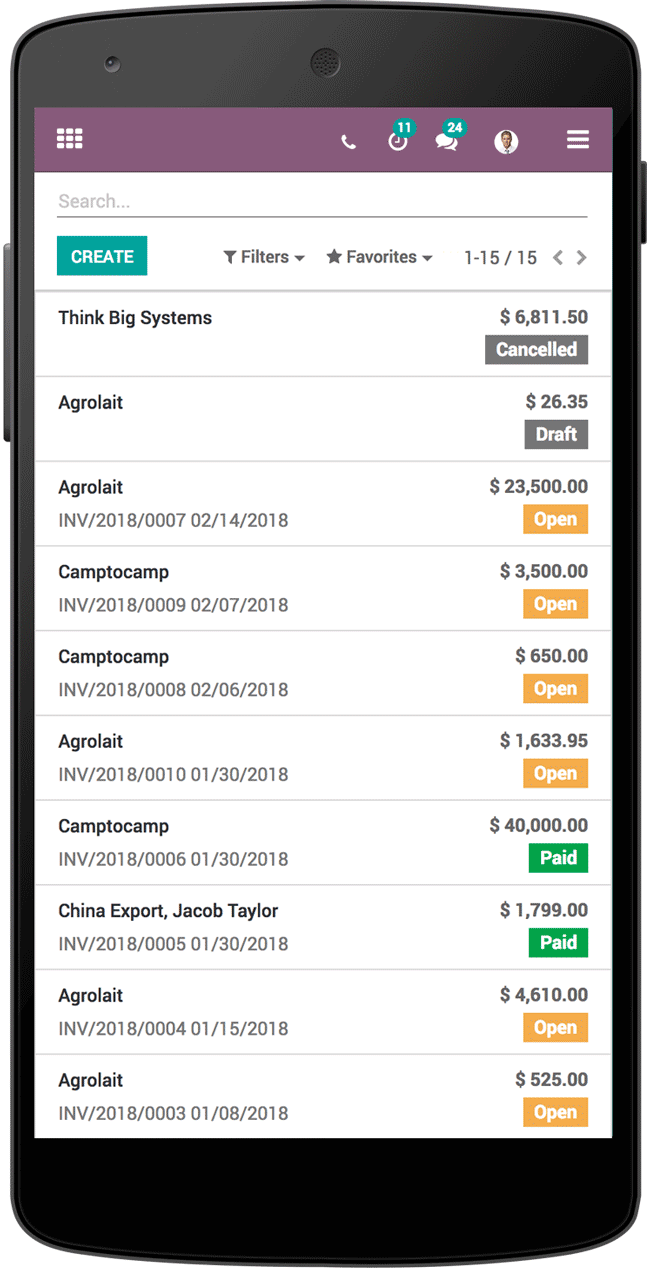 Get Customized Report
Multiple standard reports are available - Profit & Loss, cash flow statements, cash reports, executive summary and aged payable/receivables, etc. Get standard reports and chart of accounts available for 80+ countries. Export to Excel and pdf.




Get a peak of all the features